【Year End Party / All-you-can-eat all-day】 Kuro pig pigs - and Okinawa Island vegetables steamed and Okinawa cuisine (over 70 types)
Course details
【Year End Party / All-you-can-eat all-day】 Kuro pig pigs - and Okinawa Island vegetables steamed and Okinawa cuisine (over 70 types)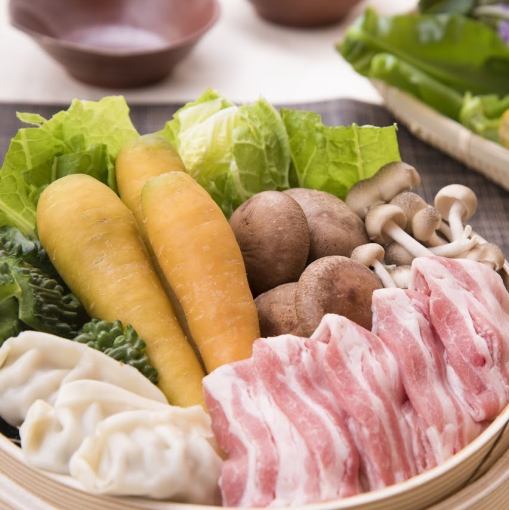 By using a coupon3680 yen
Tax excluded price ※ Elementary school student or less: 1980 yen Under 3 years old: Free + 1500 yen with unlimited drinks
Available days for reservation

Monday - Sunday - Public holidays - Holidays
★ Black pig aigu - and Okinawa island vegetable ichiro Steaming & Okinawa cuisine 【All in the store · Over 70 kinds】 All you can eat Okinawa island vegetables eaten from the Ryukyu period is called Phantom black pig Potato with pig Steaming Please taste the steaming which will make the delicious taste more delicious by the cooking method which confines the flavor of the material.
Course menu
■ Okinawa One dish 【All items in the store · Over 70 types】
Seasonal menu
Torikara Shimakara Mayo Sauce
Goldfish special wild black pig pigeon - of Teriyaki Tsukune
Deep fried chicken with blue sea ice
Super hot! Goya chan
Okinawa Island Tofu's cold winter
Okinawa Island Vegetable Stick & Black Pork Aegu Oil Miso
● Appetizer
First of all, cabbage and sweet potato with miso
Sea grapes
Goya pickle
Pickled Chinese cabbage shikuwasa pickle
MOISTURI on a moon
Mimic vinegar miso soup
Seasoned Mimicer
Baked spam
Steamed dumplings with black pig ahuu
Deep-fried Okinawa Island Tofu
Okinawa island
Steamed dumplings with black pig aku -
Mochi Mochi Moumi Tofu
● Salad
Okinawa island mozuku and papaya salad
Okinawa island curd and Okinawa island vegetable salad
Okinawa green green salad
Sweet potato salad
Pork's cold shabu salad
● Chan-Puru · pottery
Carrots with garlic chili paste
Somenne-chan
Goya-chan
Fu chan
Papa Yeliti
Mimiciger Iliche
Spam Iliche
Grilled pork with ginger
※ rice noodles
● fried food
Spam de win!
Kashiwa with Okinawa island carrot and potato
Fried raftate
All-you-can-eat all-you-can-eat gem!
2018/11/07 update